What is the UK test?
Make foreign recruitment more reliable That is "Uchida-Kraepelin test"

The UK test, which has a history of more than 60 years in Japan, is a simple and unique test that only performs a simple one digit addition for 30 minutes. It enables to measure the actual work performance by making simulated work. Since the UK test can measure accurately the abilities and personality of the examinee almost without words, the use for foreigners is increasing currently.

The UK test was developed by Japanese psychologist Uchida (1894 ~ 1966) being inspired from work psychology research of German psychiatrist Kraepelin (1856 ~ 1926). Uchida started the research from the 1920's, and completed the psychology test independently.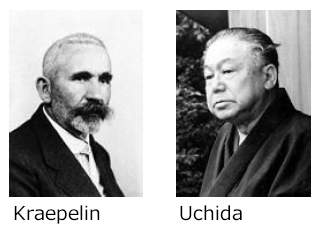 Over 60 years of history, more than 50 million people have taken the tests, and even now it is used annually for 1 million people in public offices, companies and schools. At government offices and/or companies, it is used as a reference material at the time of adoption. In schools, it is used as education instruction. For the former Japan National Railways (now JR), since 1948, it is introduced as aptitude test to prevent motorman's accident mistakes. Even statistically, a lot of researches have been done by retest, and it is proved that the judgment result is stable. Based on research results and application results, it can be said to be a psychological test with high reliability and relevance.
From the UK test home page
HR adoption not hindered
by language and cultural barriers
No restriction by language, less influence by cultural difference
It is especially recommended for the adoption of foreign workers!